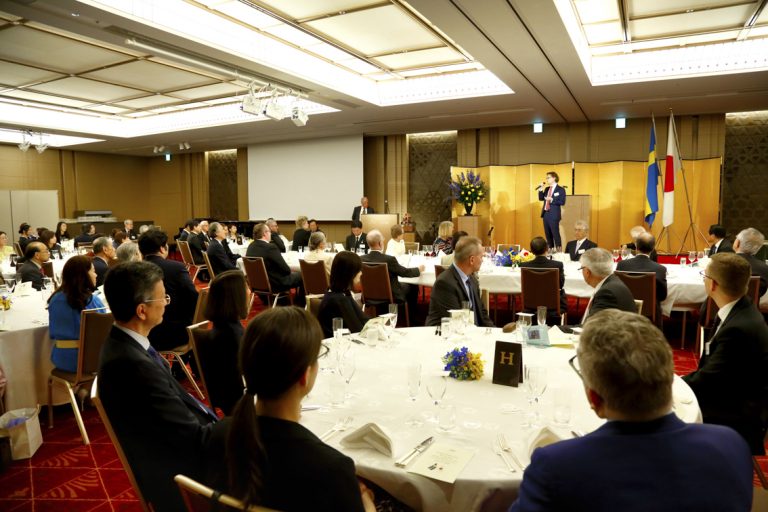 The Japan-Sweden Society was founded in November 1929, with the object of fostering and promoting friendly relations between Japan and Sweden and contributing towards cultural and commercial advancements between the two countries.
For much of its nearly century-long existence, the Society has enjoyed productive relationships with Japanese Nobel Laureates, many of whom have participated in the Society's activities as guest lecturers and Honorary Members.
The successful formation of the Society was made possible through the untiring efforts rendered by Yasunosuke Fukukita and Seiichi Takashima, both having served as Managing Directors from the beginning until their deaths, together with Ino Dan. They were supported and encouraged by Baron Takuma Dan, Ginjiro Fujihara and others of Japanese business circles as well as by Dr. J.E. Hultman, then Swedish Ambassador to Japan, Knut Gadelius, the founder of Gadelius K.K., and other influential Swedish residents in Tokyo and Yokohama. The Society has since grown by leaps and bounds under the wise guidance of its successive leaders, especially encouraged by the presence of H.I.H. Princess Chichibu at all the functions of the Society. She graciously accepted to succeed as Patroness of the Society upon the demise of H.I.H. Prince Chichibu in 1953.
Special mention should be made here about the important role played by Ginjiro Fujihara, one of the charter members and backbone of the Society. He served as President for over twenty years, from January 1934 to December 1957 when he retired due to his advanced age. During his term of Presidency, Fujihara opened his residence and spacious garden on many occasions for annual meetings and dinners and various receptions and garden parties. He generously contributed to the Society's finances. He donated a Zui-ki-tei tea ceremony house to the Royal Ethnographical Museum in Stockholm in 1935 where it remained an important artefact until it was destroyed by fire in 1969. He was presented with the Linne Medal from the Royal Swedish Academy of Sciences. He passed away in March 1960 at the age of 91.
Ino Dan, who was elected Vice-President in 1934, succeeded Fujihara as President in December 1957. He served the Society ably and enthusiastically until his retirement in November 1966 for health reasons. Ichiro Yano then assumed the Presidency and he faithfully followed the exemplary patterns of his predecessors. Due to his failing health, Yano retired from the Presidency in 1974. Akira Matsui, a former Japanese Ambassador to Sweden, was elected President at the Society's general meeting held on December 2, 1974.
Upon the retirement of H.I.H. Princess Chichibu, the esteemed Patroness of the Society since 1953, H.I.H. Prince Hitachi's succession to the position of Patron was formally confirmed at the Extraordinary General Meeting of the Society held on May 26, 1981.
At the Board of Directors Meeting on October 16, 1987, the resignation of President Matsui, due to his desire to curtail his physical activities, was officially accepted. The Board elected Reijiro Hattori, who had served as Vice-President since 1974, as President to succeed him. Reijiro Hattori passed away on January 23, 2013. At the Board of Directors Meeting on February 13, 2014, the Board elected Dr. Noriko Mizuta as President to succeed him. Dr. Mizuta served as President until July 2023, when Board Director Seiji Morimoto, a former Japanese Ambassador to Sweden, was appointed as Acting President of the Society.